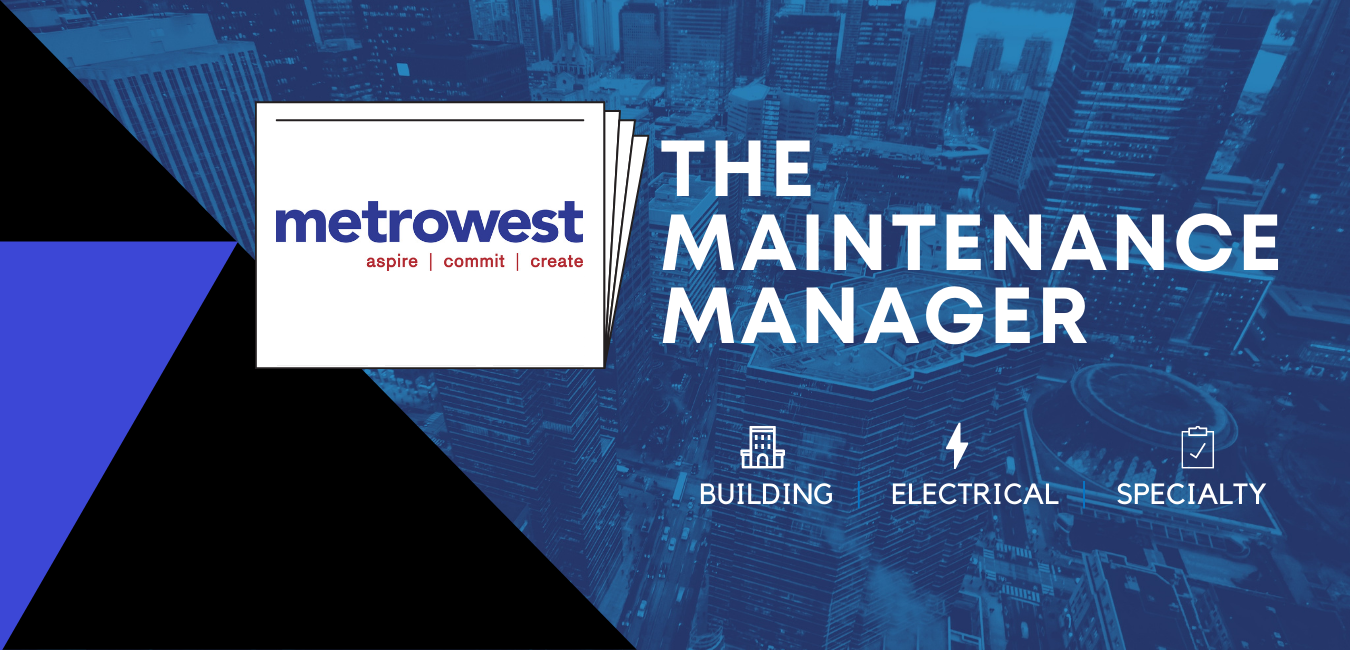 As part of our 25th anniversary, we're excited to release our first newsletter – The Maintenance Manager. It is filled with insightful, informative and exciting articles from our team and partners.
As you read through it, we would love to hear your feedback as well as ideas and information you would like to see in future issues.
Message from Marty
Hello everyone!

I hope you found some useful information in our previous issue regarding Roof Preventative Maintenance. As always, you can revisit them on our website. This month, we'll cover the importance of implementing Thermographic inspections, the specialist equipment, and reporting components. It is also critical to know that most insurances require technicians to have CAT I or CAT II certification for conducting inspections, analysing conditions, providing repair recommendations and creating reports - Metrowest technicians and supervisors are all qualified electricians and thermographers so can repair major issues immediately!

Give us a shout, and we'll make it happen!

Thanks,
Martyn Sinclair
Service Supervisor
Things to know about
thermographic inspections
Metrowest provides a non-destructive testing process that identifies and detects any problems before it's too late.

We conduct thermographic inspections to help assess the integrity of electrical components using temperature. Inspections are quick, hassle-free and provide you with peace of mind.
We undertake thermographic inspections and provide reports procedures and formats that are used in accordance with AS ISO 18434.1:2014 and AS ISO 18436.7:2014.
GREAT FOR YOU AND YOUR BUSINESS:
01
Safety approach
Metrowest measure temperatures with no contact! Yes, you read it right! A thermal camera allows us to measure the temperature of an object via a less hazardous non-contact method.
02
Specialist training
Our technicians detect the most diverse electrical problems instantaneously by analysing the objects thermal patterns. All our technicains have received specialised training and are certified in accordance with international standards to conduct comprehensive thermal inspections.
03
Australian Standards
We use the world's leading Thermal Imaging Technology to assist our technicians in developing our comprehensive reports. Our technicians carrying out thermographic inspections and are certified under AS ISO 18436.7.2014.
Report includes:
Identification & Findings
Colour Thermal Image
Photograph
Analysis
Visual inspection of equipment
Electrical equipment inspected
DO YOU HAVE ANY QUESTIONS?
Contact us or request for a callback.
Get to know Marty
He joined Metrowest in 2006 and his role is an integral part of our service business, working together with Fraser and ensuring technicians' schedules are on track, customer relations, and everything in between.

As a service supervisor, he says no two days are alike and enjoys dealing with different challenges.
Some of you may be familiar with the Service team already, but we thought we'd put together some fun introductions so you can become familiar with us all!
LET US KNOW WHAT YOU THINK
We would love to hear any ideas, suggestions, or questions you may have.